The Newport Wilderness Society is the official Friends Group of Newport State Park, Wisconsin's first wilderness park. Founded in 1985, we work with the management of Newport to help preserve the natural beauty of the forest, meadow, and shore areas of the park for appropriate public use. Together with park management, we specifically work to preserve Newport as a minimum-development natural park; to encourage study and preservation of wilderness and nature in the park; and to recruit volunteers to help with projects and programs to maintain the park and facilitate its proper use.
We are a 501(C)(3) not-for-profit organization. We happily welcome new members!
---
Ongoing Financial and Volunteer Support
We provide important annual funding for the Park Naturalist and for park educational programs.
We help provide qualified guides for interpretive nature hikes about the natural history of the park's trees, wildflowers, mushrooms, birds, butterflies, night sky and about the human history of this area.
We host special events Newport Wilderness Days (Labor Day weekend), Perseid Meteor Shower viewing (August), Candlelight Ski (February).
We coordinate clean-up/work days in the spring and fall.
We develop and underwrite many of the parks brochures and booklets.
We help purchase essential equipment for the park and its visitors: telescopes, binoculars, office computer, trail grooming equipment, UTV for trail maintenance work.
We help develop and finance informational kiosks in the park.
We help finance continuing education opportunities for the Park Naturalist and NWS volunteers.
We manage the inventory and sales of merchandise at the Visitors Center.
---
Current Infrastructure Projects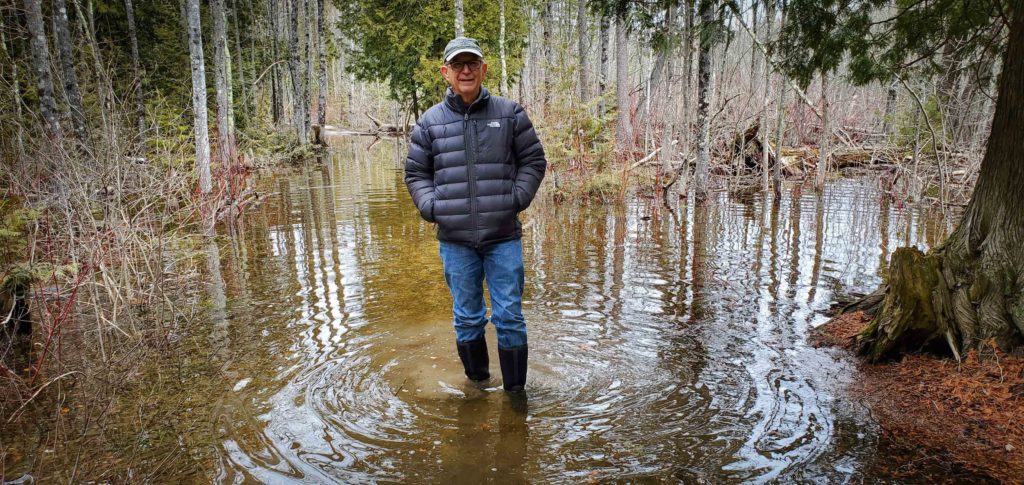 2019 & continuing | Restoration/improvement of the boardwalk on the Fern Trail. This is a designed-to-be-accessible trail which, unfortunately, is routinely "under water" from the end of winter snows, through spring and well into the summer months. It is impossible to pass for most able-bodied hikers, but clearly impossible for those who use wheelchairs or assistive devices to navigate the trail. Plans are underway to create an ADA-compliant elevated boardwalk to allow passage during the "wet" months. This may take several years to complete depending on DNR approval, grant funding and donations.
---
Past Infrastructure Projects
2019 | Repair of the Hotz gate on Europe Bay Road. The masonry portion of the work was completed by a local artist, Steve Shumway. NWS volunteers replaced the wood section of gate and repaired the weight.
---
2018 | Dark Sky supportive infrastructure. NWS raised funds for the installation of the Dark Sky kiosk, a 10″ diameter telescope and other night-sky viewing supplies, and volunteers installed 4 telescope pads in the viewing area near Lot 3.
---
2005-2008 | Public Entrance Visitor Station. NWS raised the funds for the construction and outfitting of the nature interpretive center (Hotz Wilderness Room), the Park Naturalist's office and a library, integral components of the new Public Entrance Visitors Station.
---